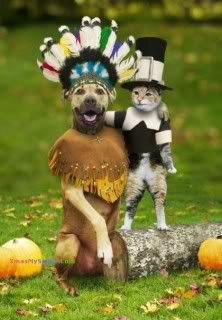 Happy Thanksgiving Everyone!
I made the most delicious looking Apple Pie this morning, and my turkey is in the oven. It's just me and the kids today because my hubby is driving in Iowa, and our family is hours away. My mouth is watering at the thought of tender turkey with gravy, mashed potatoes, cranberry sauce, rolls with butter..mmmm...and Apple and Pumpkin pie for desert! Yummy!
I hope everyone has a great day.
**************************
Updated;
Worst food ever.
A few words of advice: Don't ever purchase a pre-made turkey dinner from Safeway. You can cook the pre-cooked turkey for 3.5 hours even though it says only about 1.4 hours and it will still be un-done and pink. Yes, it was not frozen and fully thawed. And grainy mashed potatoes are never any good.
*sigh*
I'm very frustrated. PISSED that I spent the money on a good meal that has been delicious in the past (we had it a few years ago), and awful now. The only good spot of the meal was my apple pie. I'm so disappointed.
Hubby and I are researching foreign foods for Christmas.